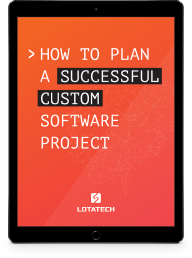 As a company grows, development of systems and processes is crucial. In the early stages of a business, investing in custom software isn't usually on the front burner. However, as a company grows beyond a few dozen employees, managing manual processes becomes much more difficult.
Managing can become non-efficient, with a lot of manual labor involved. And before you know it, you're relying on a lot of people. So you don't have the flexibility to develop the business further. You become stuck. But it doesn't have to be this way.
And that's the reason why we created a step by step educational eBook to help you get started and on the right track for success.
When you download
How to Plan a Successful Custom Software Project,

you'll learn how to:
Complete high-quality projects on time and on budget.
Use prototypes to build consensus and spread your vision companywide.
Develop relationships with internal and external stakeholders.
Optimize and improve processes.
Be more versatile.
Digitize processes to improve quality.
And much, much more!